Released Products with Masimo SET®:
(Move mouse over instrument names to see pictures.)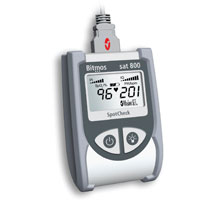 Bitmos GmbH
Himmelgeister Str. 37
40225 Düsseldorf
Germany
BITMOS GmbH and Masimo Corporation Announce Licensing Agreement
IRVINE, Calif., Aug. 28 -- German Medical Device manufacturer, BITMOS GmbH (Dusseldorf, Germany) and California medical technology company, Masimo Corporation (Irvine, CA) today announced a purchasing and licensing agreement under which BITMOS will integrate Masimo Signal Extraction pulse oximetry technology into a new line of stand alone pulse oximeters.
BITMOS, a well-established manufacturer of medical devices for the European OEM market, plans to launch the new line of pulse oximeters, called the poxy805, in the fourth quarter of 2001. The poxy805, developed around the highly proprietary Masimo SET pulse oximetry platform, will be the first BITMOS-branded medical device targeted to end-users, such as sleep laboratories, clinics and for homecare. BITMOS also plans to integrate Masimo SET into other new products such as the new line of cardiorespiratory monitors in the future
"In designing our new line, we looked at the pulse oximetry technology offered by all pulse oximetry companies that claim to work during motion and low perfusion," stated Dirk Westhues, Chief Executive Officer of BITMOS GmbH. "Our experience is mirrored by the large number of independent clinical studies that found Masimo SET to be dramatically more sensitive, specific and reliable than other pulse oximetry technologies offered by any other vendor. The BITMOS philosophy is to incorporate the very best technology available into our high-end, innovative designs, so Masimo SET was the obvious choice for our new line of pulse oximetry products."
"With this agreement, BITMOS joins other leading patient monitoring system providers from around the world that have licensed Masimo SET pulse oximetry technology to provide the new standard in performance to their customers," stated Joe E. Kiani, Chief Executive Officer of Masimo Corporation. "We are pleased to have BITMOS as a partner to improve patient care by providing healthcare providers with reliable pulse oximetry measurement when it's needed the most."
<<<<<<< HEAD