Released Products with Masimo SET®:
(Move mouse over instrument names to see pictures.)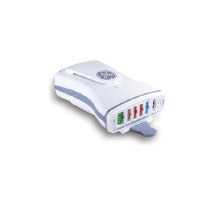 GE Medical Systems
Information Technologies
8200 West Tower Avenue
Milwaukee, WI 53223
USA
GE Healthcare Partners with Masimo to Incorporate rainbow® SET Technology with GE Patient Monitors
Joint Offering Supports Efficient Clinical Decision-Making for Patients
Milwaukee, WI & Irvine, CA – February 23, 2012 – GE Healthcare and Masimo (NASDAQ: MASI) jointly announced a long-term agreement under which GE will incorporate Masimo rainbow® SET technology into many of GE Healthcare's patient monitoring products.
"Combining Masimo's measurements advances with our innovative patient monitors enhances bedside clinical decision-making and ultimately, supports patient care," said Matthias Weber, General Manager of Monitoring Solutions at GE Healthcare. "Through our focused Monitoring Solutions division, GE Healthcare is committed to optimally collecting information from the patient's body, and transforming it into meaningful intelligence for caregivers. Masimo's suite of noninvasive and continuous rainbow® SET measurements will further enhance the point-of-care clinical intelligence benefits already offered in GE Healthcare's patient monitors."
Masimo rainbow® SET noninvasive and continuous measurements—including total hemoglobin (SpHb®) , oxygen content (SpOC™), carboxyhemoglobin (SpCO®) , methemoglobin (SpMet®) , and Pleth Variability Index (PVI®) , in addition to the Measure-Through Motion and Low Perfusion performance of Masimo SET® oxyhemoglobin (SpO2), perfusion index (PI), and pulse rate (PR)—provide additional physiological data at the point-of-care that can help clinicians assess patients and detect adverse conditions much earlier. These measurements help caregivers identify conditions such as low levels of blood oxygen, hemoglobin, and/or perfusion, as well as elevated levels of carbon monoxide and methemoglobin in the blood, abnormal pulse rates, and fluid responsiveness. With rainbow® SET, the ability to noninvasively detect and continuously monitor changes quickly and easily may help save lives and improve patient outcomes.
According to Masimo President of Worldwide OEM Business & Corporate Development, Rick Fishel, "GE Healthcare's patient monitoring lines have a long history of innovative clinical measurements and system solutions that enhance patient care decisions. We are excited to announce this expansion of our partnership with GE Healthcare and are proud to work with them to incorporate rainbow SET measurements in their monitoring solutions to continue this tradition for the benefit of customers and the patients they serve."
About GE Medical Systems Information Technologies
GE Medical Systems Information Technologies is a global leader in providing solutions for the reliable and efficient acquisition, analysis and management of patient data in health care facilities around the world. The company's offerings include cardiology, patient monitoring, image management, clinical information systems and performance management services. Information Technologies is a GE Medical Systems Company with global headquarters in Milwaukee, Wis.
GE Medical Systems is a $7 billion global leader in medical technology and services. Additional information about GE Medical Systems and Information Technologies can be found on the company's Web site at www.gemedicalsystems.com.